Refresh, Renew, ReStore: Make a DIY planter from an old wood chair this summer
DIY makeover ideas are springing up like crazy in my brain.
So when I spied a few rows of wood chairs at the Verde Valley Habitat For Humanity Restore, my DIY day was made. I knew I could turn one of them into a DIY planter for new flowers to liven up my porch.
Some chairs were in pairs but most were singles, and all of them were inexpensive. A bargain if you want a chair, and a huge opportunity for a springtime repurpose project.
After examining the shapes, sizes, and details of all the chairs at my Habitat ReStore, I decided on the perfect chair for my DIY repurpose idea. And that wood chair had no idea that is was about to become a new DIY flower planter for my front porch.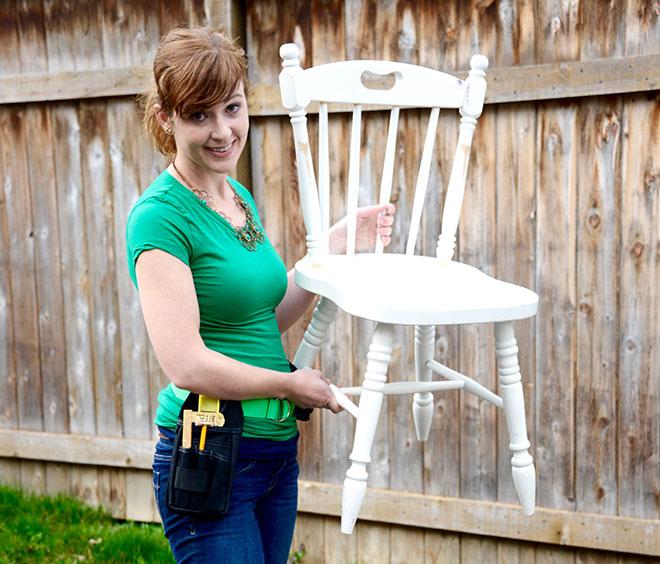 Making a chair into a planter is easier than it sounds. The most crucial part of a fun and successful DIY project is making sure all of the supplies are gathered. Here is a list of what I used for my chair-turned-DIY-planter makeover project.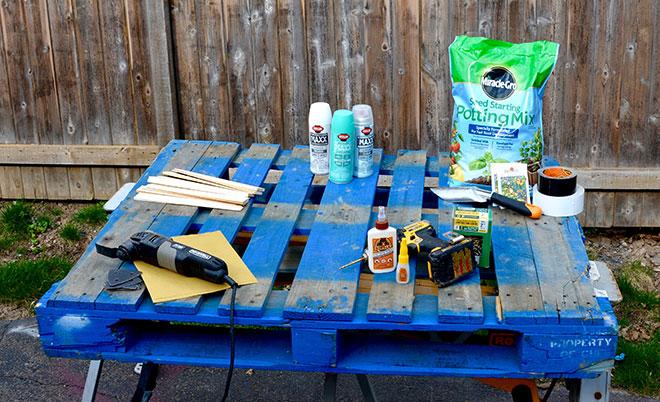 Supply list
Wood chair with a back
Tape measure
Pencil
Oscillating tool with wood cutting blade and sandpaper attachments (a hand saw or reciprocating saw would do the job, too)
Fine grit sandpaper
Super glue
Wood glue
Wood screws
Impact driver or drill
Spray paint in colors
Gorilla tape
Potting soil mix
Paint stirrers, scraps of wood or wood shims
Burpee pollinator seed packet
The first step in turning a chair into a planter is making a plan. I have an artist soul, so I sometimes just study the object to think through the possible scenarios and sketch different ideas. Even if I land on a solution, I usually push myself to think about a few completely different ideas, so I can see the possibilities from several directions.
No matter what plan is chosen, the planter certainly will need to have a bottom and sides. So before you cut the chair into pieces, I highly recommend deciding what will be the bottom and what will be the sides.
For my project, I decided to turn the chair upside-down and cut the back of the chair off of the seat. The seat then becomes the bottom of the planter.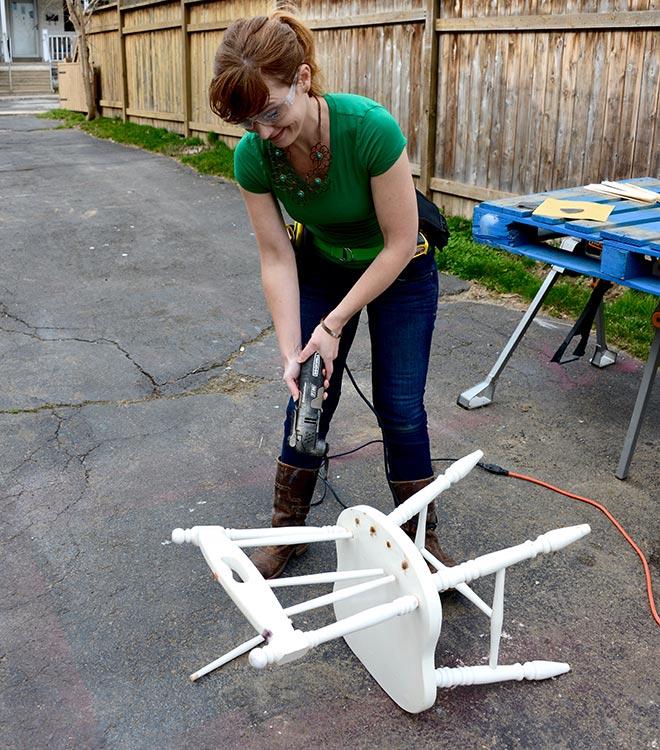 The back pieces are all cut and trimmed to become parts of the sides of the planter.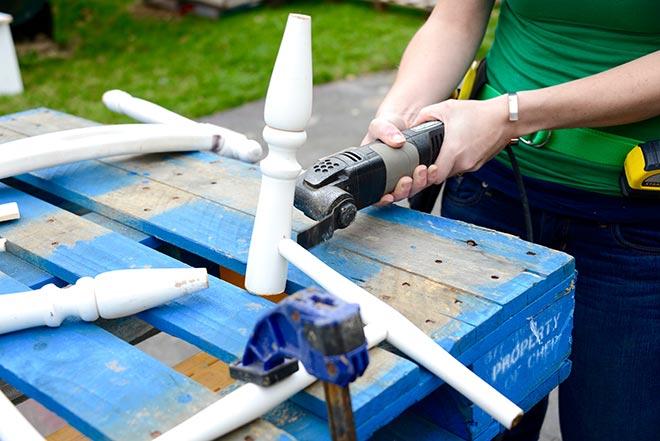 Before assembling the rest of the planter, I primed all of the chair parts.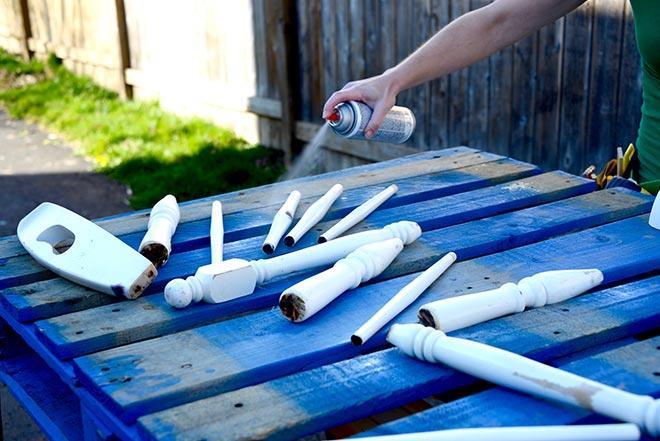 After the primer was dry, I painted the chair parts a color called Sea Gloss. While it is easier to paint when all of the elements are becoming the same color, for this project I wanted to have a color-contrast.
To fill in the gaps and provide some texture to the planter box, I clear-coated paint stirrers and weaved them into the sides of the box.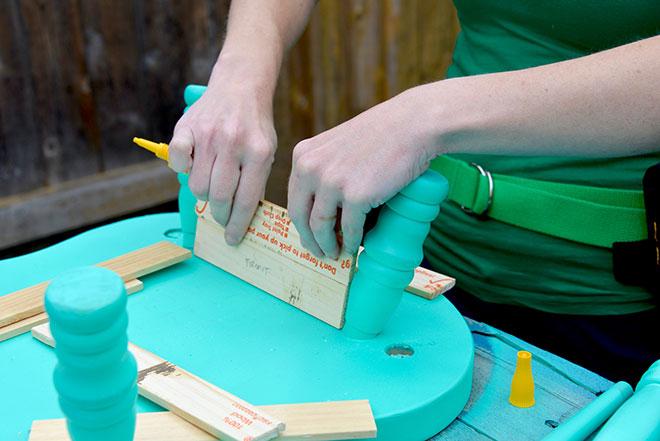 Since the piece is made from wood, I lined the interior of the planter with watertight tape.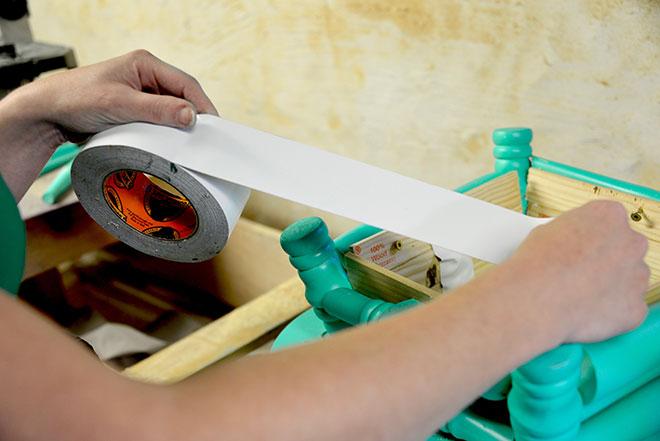 After filling with potting soil mix, I am ready for the seeds.
I chose the Burpee Garden Pollinator Seed packet for this planter because it helps with the pollinator population and it's a pretty flower mix. It may be a small planter garden, but it can help make a difference in the population of bees, butterflies and other pollinators.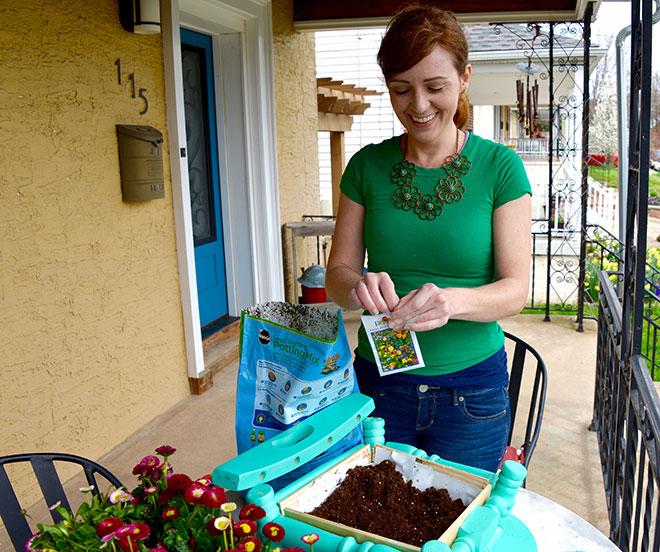 Since the pollinator mix will take time to grow, I added English daisies to fill the planter for spring.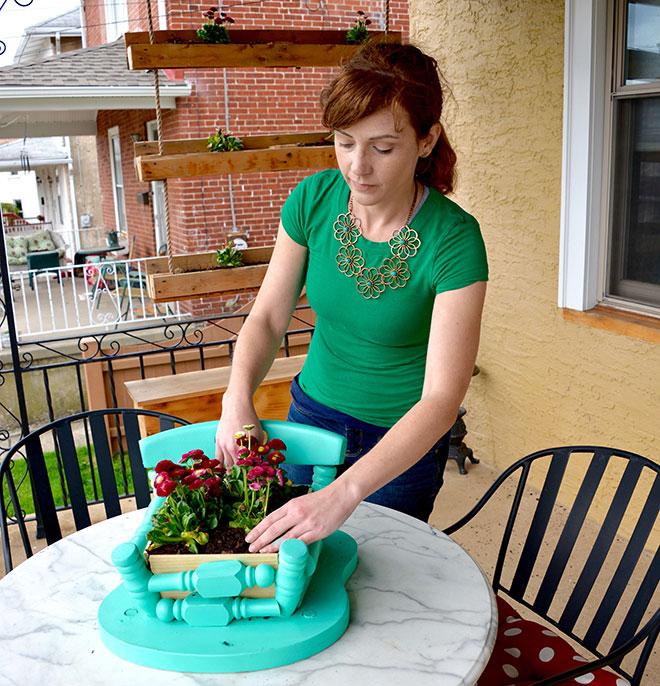 The top back element of the chair that was used as a handle for carrying the chair is now a handle for carrying the planter.
And my purchase of a wood chair from Habitat ReStore just helped a family build a home and also became a charming little DIY planter for my porch.
This chair-into-a-planter repurpose project definitively has a lot of purpose.
Theresa co-hosts the MyFixitUpLife talk show with her husband Mark, who is her partner at work and at home. She is the designer for Food Network's 'Save My Bakery,' and designed for Extreme Makeover: Home Edition. She is a licensed contractor, certified color consultant, and certified aging-in-place specialist with a focus on Alzheimer's. She is an author of Do-It-Yourself Home Improvement, DIY Quick Fix, and Complete Guide to Shelves & Built-Ins.